South America
Andean peaks, Amazonian rainforest, Patagonian glaciers, Incan ruins, colonial towns, white-sand beaches and vertiginous nightlife: the wonders of South America set the stage for incredible adventures.
Hiking past ancient temples first laid down by the Incas, contemplating the awe-inspiring power of Iguazú Falls, or spend the day watching wildlife from a dugout canoe on one of the Amazon's countless igarapés (narrow waterways). Barrel down Andean roads by mountain bike, go white-water rafting on Class V rivers and surf amazing breaks off both coasts or head to the dramatic landscapes in Tierra del Fuego, go eye-to-eye with extraordinary creatures in the Galápagos, and scramble up tableland mountains in the Gran Sabana for a panorama that seems straight out of the Mesozoic era.
Ecaudor Quest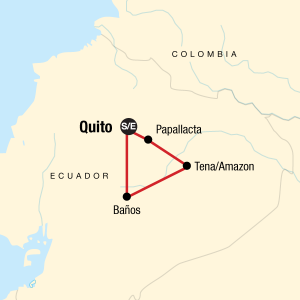 8 days
Quito to Quito
Strange how a country that's literally at the centre of the Earth can be overlooked, isn't it? Stranger still considering how amazing Ecuador is. This eight-day trip shows off its best, rolling natural wonders (the Amazon!), stunning landscapes (the Ecuadorian highlands!), rich culture (Quito!), and active pursuits like hiking, horseback riding, and mountain-biking everywhere you look. Good on its own, this trip also makes an ideal add-on to any Galápagos trip. Trust us. It's worth the time.
2022:
Sept 10, 17, Oct 8, 22 $1069
Nov 5, 19, Dec 17, 31 $999