Check this page frequently for time sensitive deals!  Call us to book or book on our search engine!!! 
Fares are subject to change

…..
Rates will always fluctuate so it is better to book as soon as you can!  Check out our DEALS page too!
For the most current rate, check here: https://www.sundialtravel.com/travel-deals
If you don't see what you are looking for, Please give me a call! 
403-244-7114
Trek Hidden Costa Rica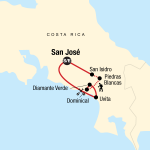 Think you know Costa Rica? Trade in the same old settings for the real deal. Trek into the heart of the jungle to live with three families in a remote village. Discover the emerald core of a diverse land while bunking down behind a massive waterfall in a hidden cave. Learn about the medicinal plants native to these parts and how to make sugar cane candy. This is a spectacular country with opportunities for waterfall rappelling, surfing, and whitewater rafting. This is what adventure is all about.
12 days San José to San José
Prices are per person in single, double or triple room occupancy.
2023:
Jan 7, Feb 4, 18, March 4, 18 $1833
April 1, 29 $1735
May 13, June 17 $2024
Book  by Dec 7, 2022
---
CLASSIC BELIZE & TIKAL
9 days, Belize City to Caye Caulker
If we had to describe the Belizean pace it would be somewhere between slowly rolling waves and the inquisitive speed of a ruin explorer. Embracing just that mix of curious and chill, this nine-day itinerary will let you tour Mayan ruins, cycle around stunning islands, and enjoy plenty of time to hang out on the beach or dive into the famous Blue Hole. Be speedy, or a bit sloth-like — we'll help you discover Central America either way.
2023:
Jan 7,  Feb 4, 11, 18 $1189
March 4, 18, April 1, 15, 29 $1133
May 20, June 3, 17 $1394
Book by Dec 7, 2022
---
Classic Bali & Lombok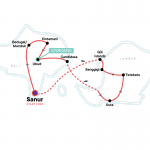 14 days Sanur to Sanur
Snorkel the warm tropical waters and watch Balinese shadow puppets dance in the night. Marvel at floating palaces and temples. Experience the best of Bali and Lombok on this adventure, offering you the perfect combination of guided excursions and free time to explore these fascinating islands at your own pace. Cool your heels in secluded waterfall pools and relax in the laid-back Gili Islands. Our CEOs will bring you off the beaten path, where you'll meet these islands' locals and gain insight into a completely different way of life.
2023:
Jan  1 $1329  Jan $1234
Feb 19, 26 $1511
Mar 5, 26, Apr 9, 16  $1728
May 14. 21  $222 June 11, 25 $1943
Book by Dec 7, 2022
---
Alaska Deal Alert!
Roundtrip from Vancouver
10 Days | 5 Ports | 1 Scenic Cruising
May 23, 2023
Inside Cabin $847 Oceanview $1077 Balcony suite $1482
July 4 or 25, 2023
Inside Cabin $1212 Oceanview $1414 Balcony suite $2090
Port charges $325 p.p.
---
THAILAND HIKE, BIKE & KAYAK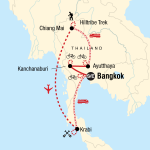 14 days, Bangkok to Bangkok
Perfect for those who believe the best way to appreciate paradise is by jumping right into it. This adventure will have you hiking through forests and rice paddies, cycling through provincial villages, and experiencing Thailand's intriguing combination of culture and the great outdoors. Kayak the turquoise waters of the Andaman and discover coral coves and white-sand beaches. With the services of a Chief Experience Officer (CEO) and your accommodation and transport taken care of, this trip offers great value as it introduces the main sights of Thailand while offering up plenty of flexibility so you can experience an adventure you'll never forget.
2023:
Jan 7, Feb 4 $2099
Mar 4 $1959 Apr 8 $1749
May 13 $2249 June $2519
Book by Dec 7, 2022
---
Madeira Hiking

6 days Santana to Funchal
When you think about a series of islands that's famous for its wine and sunshine, your initial reaction probably isn't to hike all across it. We're here to prove that it should be. Immerse yourself in Madeira's mesmerizing flavours, volcanic landscapes, and rich culture and history on this six-day Portugal hiking adventure.
2023:
Jan 7, Feb 4 $2099
Mar 4 $1959 Apr 8 $1749
May 13 $2249 June $2519
Book by Dec 7, 2022
---
Peru
Discover the best of Peru. Lima, Machu Picchu, Lake Titicaca, Cusco, Puno, and Arequipa with this wonderful package including flights.
Round-trip international flights between Canada / Lima
-Internal flights between Lima / Arequipa and Cusco / Lima
-All greeting and transfers between airports, hotels and train stations
-Train tickets between Ollantaytambo / Aguas Calientes
-The excursion on Lake Titicaca by private boat
-12 nights hotel accommodations
-All breakfasts + 6 lunches + 1 dinner (19 meals)
-A/C vehicles during the tour
-Excursions with English-speaking local guides
-All visits and entrance fees as per itinerary
-All taxes, fees
departing Calgary or Edmonton
2023: April 14, Sept 8 $3398
May 19, July 23, Oct 13 $3698
Nov 17 $3198
---
Mayan Discovery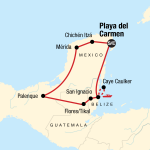 15 days
Playa del Carmen to Playa del Carmen
Mayan ruins peeking out from verdant jungle, street vendors hawking their wares on colonial streets, pristine white-sand beaches sparkling under the Caribbean sun — now this is the real Yucatán. On this unique 15-day journey, you'll tour the ruins at Chichén Itzá and Palenque, and head deep into the jungle of Guatemala to experience the ruins of Tikal. You're free to choose your own adventure! So escape the resort packages and witness all the incredible wilderness, wildlife, and Mayan culture — past and present
2023:
Jan  14, 21, 288 Feb 4, 11 $1889
March 4, 11, 18, 25 , April 1, 8, 15, 22, 29 $1791
May 6, June 3, 17 $2114
Book by Dec 7, 2022
---
Absolute Peru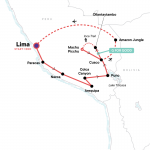 21 days Lima to Lima
Scan the canopy for wildlife from the comfort of our intimate and exclusive G Lodge Amazon, contemplate mountain vistas or take an optional flight over the Nazca Lines — this epic journey explores the geography, culture, and history of Peru, offering you the perfect blend of guided excursions and free time. Hike the Inca Trail, which rewards those willing to break a sweat with stunning views of ruins, mountainscapes, and cloud forest. And because we run our own treks, we can ensure the fair treatment of our porters and the quality of food, service, and equipment.
2023:
Jan 4, 5, 18, 19 Feb 11 $3249
March 11, 18, 25, April  5, 12, 15, 19, 26 $3870
Book by Dec 7, 2022
---
Caribbean Colombia Express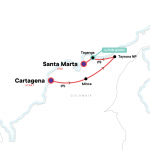 8 days
Take it from us — the nature of Colombia and the Caribbean is like nowhere else on Earth. On this one-week trip packed with active highlights and laid-back moments, you'll get the best of beach relaxation and wilderness exploration. Beach time and Tayrona National Park are on the bill here, including chances for hikes down picturesque trails and spending time with the Gotshezhy Wiwa Indigenous community to learn about their customs and traditions. Get back to nature in the jungle town of Minca — it's the great outdoors with a chill Caribbean twist.
2023:
Jan 15, 22, 29, Feb 26 $1623
March 5, 19, 26 April 2, 11, 23 $1707
May 14, 28 June 11, 18,25 $2087
Book by Dec 7, 2022
---
Central America Journey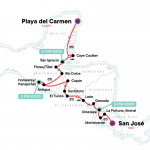 32 days: Playa del Carmen to San José
Escape the resorts and discover something extraordinary in Central America. Visit seven countries on this adventure and experience mighty ruins, clear Caribbean waters, Pacific waves, rainforests, and breathtaking scenery along the way. Explore indigenous Mayan villages and meet locals for an immersive experience that few travellers get to know. While you're free to choose your own adventure, your accommodation and transportation are included. Our expert CEOs will help you make the most of your time. Take a trip that's packed with all the things you need and nothing you don't – 32 days of maximum adventure at minimum cost.
2023:
Feb 4, 8, 11, 18 March 4,, 8, 11, 25 $2869
April 1, 5, 8, 15, 22, 29 $2750
May 3, 13, 20, 27 June 3, 7, 10, 17, 2, 24 $3374
Book by Dec 7, 2022
---
THAILAND ISLAND HOPPING – WEST COAST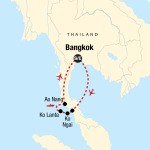 8 days, Bangkok to Bangkok
Thailand's known for its unrivalled beaches, so forget setting foot on just one. This eight-day tour lets you hop around some of the best beaches along the Andaman Sea, discover the hues of Ko Mook's Emerald Cave, and snack on some tasty barbecue on the shores of Ko Lanta. Find that sweet spot just for you, whether that means getting your thrills from optional activities like whitewater rafting, or just picking a place where you can hang out and watch the waves.
2023:
Jan 6, 9, $1413
Feb 3, 10, 17 $1413
March 3, 10, 24 $1140
April 7, 14, 21.28 $874
May 12, June 9 16, 30 $1124
Book by Dec 7, 2022
---
Volcano Trail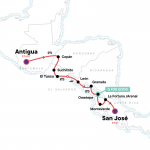 17 days: Antigua Guatemala to San José
From the laid-back vibes and waves of the Pacific Coast to tropical rainforests alive with jungle melodies, take the road less travelled on this trip through Guatemala, Honduras, El Salvador, Nicaragua, and Costa Rica with other travellers your own age. This is one of our most exciting trips, filled with breathtaking scenery and a chance to experience local culture with a two-night community guesthouse stay on the island of Ometepe. Enjoy a blend of public and private transportation, which not only keeps costs down but also gives you a chance to really meet the locals.
2023:
Jan 8, 15, 19, 22, 29 $1518
Feb 2, 5, 12, 19, 23, 26 $1518
March 5, 12, 19, 23, 26 $1518
April 9, 16, 20, 23, 30 $1448
May 7, 14, 18, 28 June 4, 11, 18 22, 25 $1754
Book by Dec 7, 2022
---
Best of Australia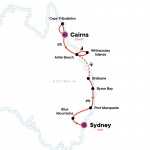 14 days Cairns to Sydney
In case you hadn't noticed, Australia is an awfully big place. So big, in fact, that you'd need to come back a few times to see it all. Don't have that kind of time? Hop aboard this 14-day trip down Australia's east coast and make the most of the time you do have. Offering a solid mix of must-do experiences and uncommon adventures, you'll enjoy a Pick-to-Plate lunch on an organic farm in Byron Bay, sail the Whitsundays, and trek through Mossman Gorge in the Daintree Rainforest. The best part: there's still plenty more to come back for.
2023:
Jan 26 $4105 Feb 2, 23, March 2, 30 April 13, 27 $4300
June 22 $4346
Book by Dec 7, 2022
---
Classic Vietnam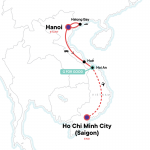 10 days Hanoi to Ho Chi Minh City
Sail through limestone karsts aboard a traditional junk boat and walk the streets of imperial capitals. From vibrant Hanoi, the natural beauty of Halong Bay, the atmospheric imperial capital of Huế, and the charms of Hoi An to the modern day life of Saigon, experience the energy of Vietnam in 10 jam-packed days. An experienced Chief Experience Officer will lead you to must-see highlights with time in between to do your own thing.
2023:
Jan 2, 3, 5, 6, 7, 8, 9, 10, 11, 12, 13, 15, 17, 18, 19, 20, 22, 24, 31 $979
Feb 4, 5, 7, 12, 17, 18, 19, 22, 24 48 $979
March 1, 3, 5, 7, 8, 9, 10, 12, 1, 15 $979
March 17, 19, 21, 22, 24, 26,29 $944
April 7, 10, 12, 13, 14, 17, 19 20, 21, 24, 25, 27, 28 $944
May 1, 3, 4, 5, 8, 10, 11, 15, 17, 18, 22, 24, 25, 29 $1124
June 1, 5, 7, 8, 12, 14, 15, 19, 21, 22, 26, 28, 29, 30 $1214
Book by Dec 7, 2022
---
Cuba Explorer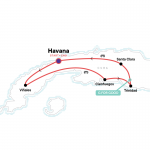 9 days Havana to Havana
Explore a side of Cuba that few rarely get to experience on this nine-day adventure. Cruise Havana's history-infused streets in a classic car and stroll along Trinidad's cobblestone avenues to the rhythms of music floating from open windows. Tour a tobacco plantation for a taste of iconic Cuban culture and luxuriate in the view of the island's rolling western hills. Travel by private air-conditioned vehicle is well-paced, so you're refreshed and ready to explore the island's vibrant culture and tropical breezes.
2023:
Jan 15, 22, Feb 16 $1448
March 12, 19, 26 $1448
April 2, 9, 16, 23 $1364
May 7, June 4, 18 $1637
Book by Dec 7, 2022
---
Costa Rica Quest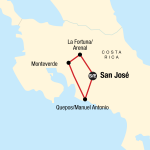 9 days San José to San José
Nature called you to Costa Rica — now here you are, suspended in the jungle canopy, locking eyes with a curious monkey. This action-packed tour of Costa Rica's highlights is perfect for the adventurer with limited time who wants to explore the region's diversity. Get your adrenaline pumping, follow a trail to the base of a waterfall, melt away in thermal springs, or relax on a beach — your guide will help you find the secluded spots only the locals know.
Soak in the thermal hot springs of Arenal Volcano
Search for the elusive quetzal bird in the cloud forest
Watch the sunset over the Pacific
Learn about sugar cane and coffee production at a local planta
2023:
Jan 2, 4, 6, 7, 9, 11, 13, 14, 16, 18, 20, 23, 25, 27, 28, 30 $1393
Feb 1, 3, 4, 5, 6, 8, 10, 11, 12, 13, 17, 18, 20, 22, 24, 26, 27 $1316
March 1, 3, 4. 6, 8. 10, 11, 13, 15 $1316
March 71, 18, 20, 22, 24, 25 27, 29, 31 $1393
April 1, 3, 5, 7, 8, 10, 12, 14, 15, 20, 22, 27 $1393
May 4, 6, 9, 11, 13, 18, 20, 25, 27 $1259
Book by Dec 7, 2022
---
Malta Long Stay AX Victoria Sliema 2023
22 Days/21 Nights – ARRIVAL ON March 1, 2, or 3 $1559 per person
Spend 3 weeks in Malta at the AX Victoria Hotel 4*, with daily breakfast included, and the services of our local representative at destination.
Considered to be one of the best hotels in the heart of Sliema, AX The Victoria Hotel can be characterized as modern, yet fully honoring the Victorian style that previously dominated the Sliema area. Whether you're looking for a romantic getaway, planning a vacation in Malta with friends, or travelling for business, you will always receive high-class service and a welcoming smile at AX The Victoria Hotel. AX The Victoria Hotel guarantees you an iconic 5-star experience at a 4-star hotel.
Inclusions
Return airport transfer
21 nights in classic room with daily buffet breakfast
The services of our local representative in Malta
Exclusions
Flights – Gratuities to driver, guide and representative – Travel insurances – City stay tax of 5 euros per person for the stay
---
Costa Rica Active Adventure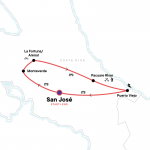 13 days San José to San José
Trekking, biking, horseback riding, kayaking, ziplining. Costa Rica really is the "Adventure Capital of the Americas." Thrill-seekers will find more than enough to keep themselves busy over this trip's 13 action-packed days. After landing in San José, embark on four days of exploration around Monteverde and Arenal Volcano. Raft down the mighty Pacuare River before crossing over to our remote rainforest lodge, surrounded on all sides by the thick, enveloping jungle. End the journey by heading down to the beach at Puerto Viejo
2023:
Jan 7, 21, 28, Feb 4, 18, 25 Mar 4, 18, 25 $1777
April 1, 15, 22, 29 $1721
May 6, 20, June 3, 17, 24 $2024
Book by Dec 7, 2022
---
Croatia – Long Stay April 2023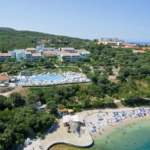 The Valamar Resort chain owns 2 beautiful hotels in the Dubrovnik area: Valamar Argosy* and Valamar
Lacroma 4*. These neighboring hotels are located in a beautiful and quiet area. The hotels are only 15 minutes
from Dubrovnik's old town (5.5 km – very easy to reach at any time of the day or night by taxi or public
transportation) and 250 meters from the beach. Our local supplier will be available to assist and organize all
sorts of activities and optional excursions ($) in Croatia and Montenegro.
$1699 per person
Inclusions
Transfers: 21 nights in a beautiful 4* resort in the Dubrovnik region, either at the Valamar Argosy* and Valamar Lacroma 4*
Daily breakfast
Exclusions
Flights – Gratuities to drivers, guides, representatives – Drinks, beverages, water – Travel insurance
---
Portugal Long Stay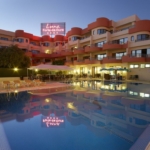 26 Days/24 Nights with air from Calgary, Edmonton or Vancouver
Portugal offers a variety of landscapes to discover! From the bright blue of the sea and its white sandy beaches, to the purple of the terraced vineyards and its magnificent green plains, this country of contrasts will ensure you an unforgettable vacation. Offering a rich and varied gastronomy, each region of the country has its own specialties, most of which are inspired by local products. Visiting castles, admiring cathedrals and the classical elegance of the palaces will help you relive the past. Portugal has long been the undisputed choice for sun seekers.
Luna Solaqua is a 4 star hotel located in the heart of the picturesque Albufeira, a few steps from the Continente/Albufeira Shopping Centre, with a big supermarket, some restaurants and shops. It is also very conveniently placed, within a 10-minute walk from the Strip (Oura Street) and the Old Town, as well as wonderful beaches, such as Praia dos Pescadores and Praia do Inatel.
The hotel offers comfortable, bright and spacious self-catering accommodations that features air-conditioning, free WiFi and safe (€), as well as access to an indoor and outdoor swimming pool.
Each unit comes with a flat-screen TV, a well-equipped kitchenette with electric stove, a microwave and fridge, as well as a toaster and kettle.
From Edmonton Feb 23 to March 21, 2023
1 night Lisbon, 21 nights Luna, 3 nights Lisbon $2949
From Calgary Feb 22 to March 19, 2023
2 nts Lisbon, 21 nights Luna 1 night Lisbon $3049
From Vancouver Feb 24, to March 22, 2023
21 nts Luna, 4 nights Lisbon $2749
Inclusions
International flights from Canada Vancouver, Calgary, Edmonton
All transfers
21 nights in studio: Hotel Luna Solaqua 4* Albufeira 1-bedroom apartment
3 – 4 nights in a 4* hotel in Lisbon, including breakfasts
A half day city tour of Lisbon (bilingual)
The services of a representative at destination for the purchase of private or group excursions.
Exclusions
Meals in the Algarve – Travel insurance – Gratuities to drivers, guides, tour leaders – Optional excursions – €2 tourist tax in Lisbon
---
Millennium back-to-back Asian cruise
26 Days/25 Nights
Johanne Dion and Don Belford will escort this trip to Asia including a 1-pre-night cruise in Tokyo and a back-to back cruise on board of the Celebrity Millennium, Tokyo-Singapore & Singapore-Mumbai. They will be on site to assist.
Sail from Tokyo to Kagoshima, Japan; Ishigaki, Japan; Taipei, Taiwan; Hongkong, China; Hue/Danang, Vietnam; Singapore; Penang, Malaysia; Phuket, Thailand; Hambantota, Sri Lanka; Colombo, Sri Lanka; Cochin, India; Mumbai, India
Fares based on double occupancy
Inside cabin $3700 cdn
Vernadah Cabin $7095 cdn
Taxes & port charges $1117 cdn per person
Inclusions
• November 16, 2023: Meet and greet by our English-speaking local representatives and group transfer from Tokyo airport to the hotel*
• November 16-17, 2023: 1-night accommodation in Tokyo at Shinjuku Washington Hotel 3* in a standard Twin room including breakfast
• November 17, 2023: Group transfer with English-speaking assistance from hotel to the port of Tokyo
• Back-to-back cruise on Celebrity Millennium for a total 24 nights
November 17– 29, 2023: Tokyo- Singapore/ Northeast Asia Cruise
November 29– December 11, 2023: Singapore – Mumbai/ Spice route cruise
• December 11, 2023: Group transfer with English-speaking assistance from Mumbai port to Mumbai Airport*
*The package includes a group arrival transfer on November 16th, 2023, based on the time schedule of the direct flight Vancouver to Tokyo (flights will be available in January 2023) and it includes a departure transfer and December 11th, 2023.
Exclusions
International flights – Post-cruise nights in Mumbai – Meals and drinks during the pre-stay in Tokyo – Optional excursions – Gratuities for guides, drivers and hotel staff – Insurance – Baggage handling
CRUISE: "ALWAYS INCLUDED" offer including gratuities, WIFI and the classic drinks package*
BOOK PRIOR TO JAN 16TH, 2023 AND GET
➢ Onboard Credit $100 USD per stateroom (Inside and OV)
➢ Onboard Credit $200 USD per stateroom (Balcony and above)
---
Spain – Long Stay Calella
APRIL 2023 for 3 weeks with return air!
Miami Park apart-hotel Calella – junior suite or one bedroom
The Miami Park Calella is a nice, clean, and well located 3* Apart hotel. It is situated in Calella, only 5 minutes walking distance from the train station, which is only a stone throw away from the beach. Halfway between Girona and Barcelona, Calella is perfect for all sort of excursions and activities, either sea or country related. Links to Barcelona or Girona make it great for visits there, as well as wine or food tasting tours, Collserola, San Pere monastery to only cite a few.
The bar of the hotel will be open for our guests, for a couple of hours in the morning and in the evening with a happy hour every night from 5 to 7 PM – Special 2 for 1 on beer and wine.
The grocery store, shops and restaurants are just a block away.
Day 1 Departure from Canada
Day 2 Arrival transfer to Barcelona and transfer to Calella
Days 2 to 22 21 nights at Miami Park Calella with a fully equipped kitchenette.
Day 23 Transfers back to Barcelona airport
Vancouver: April 19 to May 10 $2799
Edmonton: April 20 to May 11 $2699
Montreal: April 20 to May 11 $2649
Calgary: April 19 to May 11 $2699
Toronto: April 19 to May 11 $2649
---
Irish Escape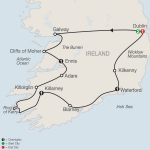 7 day tour Dublin to Dublin
all breakfasts included, and two dinners
2023:
Jan 8, 15, 29, Feb 12, 19, 26 $1299
single supplement waived
---
Greece Escape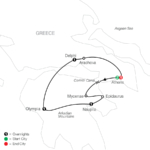 7 days/1 country
History comes alive on your guided visits to many of Greece's ancient sites. In addition to the Acropolis and Olympia, you'll also visit the ruins in Mycenae, dating from 1,350 to 1,200 BC and described in Homer's epic poem, "The Iliad." Also see the amazingly well-preserved, 2,300-year-old open-air theater in Epidaurus. In ancient Greece, people traveled to Delphi to seek the wisdom of the Oracle. Learn about the Oracle, tour the excavations, and visit the Archaeological Museum. To add to your Greek experience enjoy a sirtaki dance lesson and try a glass of Ouzo.
2023:
Feb 12, 26, $1229
March 12, 19 $1459
Single supplement waived!
---
Portugese Escape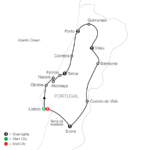 9 days/1 country
8 breakfasts and 5 dinners
Experience the best of Portugal and take in the important cities of Lisbon and Porto, typical towns and villages, and the stunning north-west coastline. Throughout this tour, you'll visit the must-see attractions, including the 16th-century Jeronimos Monastery. Often regarded as Lisbon's most important landmark, it was traditional for Portuguese seafarers to pray in the chapel before their departure to the unknown.
2023:
Jan 21, 28, Feb 2, 9 $1589
Feb 11, 16, 18, 23, 25, March 2, 4 $1669
March 9, 11 $1889
Single supplement waived!
---
Cruise deals!
7 Night Caribbean
Wonder of the Seas Jan 22, 2023
Itinerary: Orlando, Perfect Day @ CocoCay, Nassau, Cruising, Falmouth, Jamaica,Labadee, Haiti (Private Island),Cruising, Orlando
starting at $1,054 CAD per person
7 Night Caribbean
Oasis of the Seas March 19, 2023
Itinerary: Miami, Cruising, Labadee, Haiti, San Juan, Puerto Rico, St. Thomas, Cruising, Perfect Day@ CocoCay, Miami
starting at $781 CAD per person
12 Night Iceland & Scotland
Jewel of the Seas (with overnights) May 12, 2023
Itinerary: Amsterdam, Cruising, Akureyi, Iceland, Reykjavik, Iceland,  Cruising,  Shetland, Scotland, Loch Ness, Scotland,  Edinburgh, Scotland,  Cruising, Amsterdam
starting at $1,649 CAD per person
---
Scottish Outland Adventure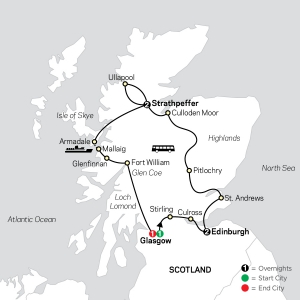 7 DAY TOUR FROM GLASGOW TO GLASGOW
.
2023:
June 4, 18, July 2, 16, 30 $1889
Aug 13 $2119 Aug 27 $1889
Sept 10 $1889 Sept 24 $1799
details: https://www.sundialtravel.com/travel/scotland
---
Costa Rica Natural Wonders
11-day tour package of Costa Rica with flights! Be charmed by the tropical rainforests, natural hot springs, volcanoes, unspoiled beaches, and the abundant wildlife. An amazing slice of Nature!
Includes:
-Round-trip international flights between Canada / San José with good itineraries
-Greetings and transfers between the airport & the hotels
-10 nights hotel accommodations
-All breakfasts + 3 lunches + 2 dinners (15 meals)
-Transportation in deluxe vehicles with A/C
-English-speaking guides during the tours
-Visits and entrance fees as per itinerary
-Tortuguero National Park entrance fees
-All taxes
departing Calgary, Edmonton or Vancouver
2023:
Jan 15 $2598
Feb 19, Mar 19 April 16 $2698
May 21, Oct 22 $2598
Nov 26 $2698
---
Greek Island Escape
9 days/ 7 nights
3 nights in Athens at the Arethusa 3* hotel (or similar) in a standard room
• 4 nights in Paros at the Panorama 3* hotel (or similar) in a standard room
INCLUDES
-Round-trip international flights between Canada / Athens with good itineraries
-Greetings and transfers between the airport, the hotels, and the ports
-All the ferries between Athens and the islands as mentioned in the itinerary
-7 nights hotel accommodations
-All breakfasts
-All taxes
departing Vancouver, Edmonton or Vancouver
2023:
April 9, 16, 23, 30 $2598
May 7, 14, 21, 28 $2598
June 4, 11, 18 $2698
July 2, 3, $2998
Aug 13 $2998
Sept 3, 10, 17, 24 $2698
Oct 1, 8, 15 $2598
---
Portugal River Cruise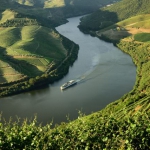 10-night all-inclusive River Cruise package on the Douro with flights! Explore lively Lisbon, charming Porto, and discover breathtaking landscapes while navigating the fascinating Douro.
PACKAGE INCLUDES:
International flights
Welcome & transfers
2 nights pre cruise in Lisbon
1 night post cruise in Porto
5 nights on the Douro
Inclusions:
-International flights between Canada,Lisbon and Porto
-Greetings and transfers between the airport, the hotel, and the port in Lisbon and Porto
-Transfer between Lisbon and Porto
-2 nights pre-cruise in Lisbon at the Miraparque 3* hotel with breakfast included
-1 night post-cruise in Porto at the Tryp Porto Centro 3* hotel with breakfast included
-5 nights on the Douro on the MS Gil Eanes or MS Amalia Rodriguez river cruise ship in a standard cabin
-all inclusive: All meals and drinks on board (including alcohol)
-Welcome cocktail and gala dinner on board
-Wifi internet on board
-All taxes & fees
2023:
Mar 30
Calgary or Edmonton $3798
Vancouver $3598
April 30, May 12, June 9
Calgary or Edmonton $3898
Vancouver $3698
July 28, Aug 25
Calgary or Edmonton $3698
Vancouver $3598
Oct 10
Calgary or Edmonton $3898
Vancouver $3698
---