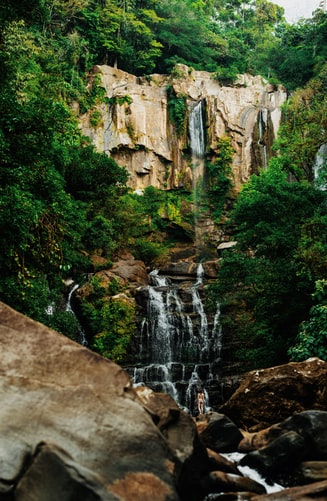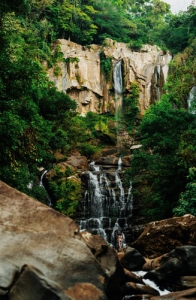 Costa Rica is one of the most biodiverse countries in the world; it contains about 5% of the world's species. The lush wild natural environment can be experienced all throughout the country and is easily accessible to the curious visitor. Costa Rica is a safe paradise. Unlike other countries, Costa Rica enjoys a very stable political climate and economic development, providing visitors with a tranquil setting for their stay. It is one of the few countries in the world with no army. The country and its people have a peaceful disposition, which makes for the perfect place to enjoy an unforgettable vacation. Costa Rica offers dreamlike landscapes, kind people willing to share their culture and a safe country to experience natural wonders.
Costa Rica provides the perfect combination of relaxation, adventure, culture, fine cuisine and wildlife. Visitors find in Costa Rica an adventure paradise set in the most beautiful natural and safe environment. It is also the home of four World Heritage sites certified by UNESCO.
Wow!! This is the seasonal waterfall in the Pailas Sector in Rincon de la Vieja National Park. In dry season, it's just a TINY trickle with barely any water.
Costa Rica Quest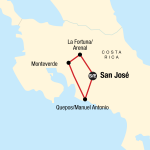 9 days San José to San José
Nature called you to Costa Rica — now here you are, suspended in the jungle canopy, locking eyes with a curious monkey. This action-packed tour of Costa Rica's highlights is perfect for the adventurer with limited time who wants to explore the region's diversity. Get your adrenaline pumping, follow a trail to the base of a waterfall, melt away in thermal springs, or relax on a beach — your guide will help you find the secluded spots only the locals know.
Soak in the thermal hot springs of Arenal Volcano
Search for the elusive quetzal bird in the cloud forest
Watch the sunset over the Pacific
Learn about sugar cane and coffee production at a local planta
2023:
Jan 11, 13, 16  $1475
Feb  6, 8, 10, 11, 12, 13, 15, 17, 18, 20, 22, 24, 25, 26, 27 $1394
March 1, 3, 4. 6, 8. 10, 11, 13, 15, 17, 18, 20, 22, 24, 27, 29, 31 $1475
April 1, 3, 5, 7, 8, 10, 12, 14, 15, 20, 22, 27 $1475
May 4, 6, 9, 11, 13, 18, 20, 25, 27 $1259
Book by Jan 31, 2023
Costa Rica Active Adventure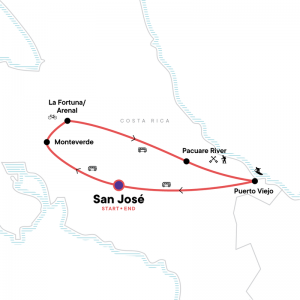 13 days San José to San José
Trekking, biking, horseback riding, kayaking, ziplining. Costa Rica really is the "Adventure Capital of the Americas." Thrill-seekers will find more than enough to keep themselves busy over this trip's 13 action-packed days. After landing in San José, embark on four days of exploration around Monteverde and Arenal Volcano. Raft down the mighty Pacuare River before crossing over to our remote rainforest lodge, surrounded on all sides by the thick, enveloping jungle. End the journey by heading down to the beach at Puerto Viejo
2023:
Feb 25 Mar 4, 18, 25 $2539
April 1, 15, 22, 29, $2249
May 6, 20, June 3, 17, 24 $2249
July 6, 8, 15, 22, 29, $2041
Aug 5, 12, 26 $2041
Sept 9, 23, Oct 7, 14, 28 $1867
Nov 4, 11, 18, 25 $2041
Dec 2, 9, $2107
Book by Jan 31, 2023
Costa Rica Natural Wonders
11-day tour package of Costa Rica with flights! Be charmed by the tropical rainforests, natural hot springs, volcanoes, unspoiled beaches, and the abundant wildlife. An amazing slice of Nature!
Includes:
-Round-trip international flights between Canada / San José with good itineraries
-Greetings and transfers between the airport & the hotels
-10 nights hotel accommodations
-All breakfasts + 3 lunches + 2 dinners (15 meals)
-Transportation in deluxe vehicles with A/C
-English-speaking guides during the tours
-Visits and entrance fees as per itinerary
-Tortuguero National Park entrance fees
-All taxes
departing Calgary, Edmonton or Vancouver
2023:
Jan 15 $2598
Feb 19, Mar 19 April 16 $2698
May 21, Oct 22 $2598
Nov 26 $2698
Central America Journey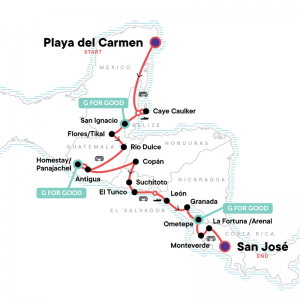 32 days: Playa del Carmen to San José
Escape the resorts and discover something extraordinary in Central America. Visit seven countries on this adventure and experience mighty ruins, clear Caribbean waters, Pacific waves, rainforests, and breathtaking scenery along the way. Explore indigenous Mayan villages and meet locals for an immersive experience that few travellers get to know. While you're free to choose your own adventure, your accommodation and transportation are included. Our expert CEOs will help you make the most of your time. Take a trip that's packed with all the things you need and nothing you don't – 32 days of maximum adventure at minimum cost.
2023:
Jan  21, 28 $2869
Feb 4, 8, 11, 18 March 4, 8, 11, 25 $2869
April 1, 5, 8, 15, 22, 29 $2750
May 3, 13, 20, 27 June 3, 7, 10, 17, 2, 24 $3374
Trek Hidden Costa Rica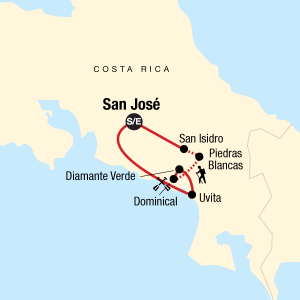 Think you know Costa Rica? Trade in the same old settings for the real deal. Trek into the heart of the jungle to live with three families in a remote village. Discover the emerald core of a diverse land while bunking down behind a massive waterfall in a hidden cave. Learn about the medicinal plants native to these parts and how to make sugar cane candy. This is a spectacular country with opportunities for waterfall rappelling, surfing, and whitewater rafting. This is what adventure is all about.
12 days San José to San José
Prices are per person in single, double or triple room occupancy.
2023:
Feb 4, 18, March 4, 18 $1833
April 1, 29 $1735
May 13, June 17 $2024
Costa Rica Adventure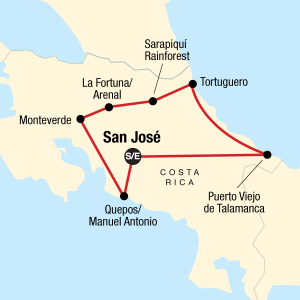 16 days
San José to San José
If you're looking for a taste of Costa Rica's world-class highlights but want to keep things spicy with a sampling of hidden treasures, this action-packed adventure tops the menu. In spite of its small size, Costa Rica is one of the most biologically diverse countries in the world with volcanoes, wildlife, rainforests, and beaches to explore. This adventure offers a great balance of guided excursions and free time. Optional activities abound — choose to get your adrenaline pumping or take it easy with a stroll through a butterfly garden.
2023:
March 4, 6, 9, 11, 12, 13, $2159
March 16, 18, 20, 23, 25, 26, 27, 30 $2267
April 10, 13, 15, 17, 20, 22, 27, 29 $1934
May 6, 11, 13, 20 27 $1934
June 3, 10, 12, 17, 24, 26, 29 $1934
Aug 5, 7, 12, 14, 17, 19, 24, 26, 28 $2267
Sept 2, 9, 12, 16, 21, 23, 30 $1934
Oct 7, 14, 21, 23, 28, 30 $1934
Nov 6, 13, 20, 23, 25, 27, 30 $2159
Dec 2, 4, 7, 9, 11, 14 $2159
Book by Jan 31, 2023
COSTA RICA ESCAPE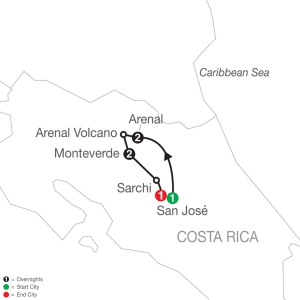 7 Day Tour from San José to San José
Get back to the garden with an escape to Costa Rica's natural paradise. From heart-stirring suspension bridges through rainforest canopies to the lava trails emerging from the depths of the earth. Visit Arenal Volcano and explore the wild places where pumas and jaguars prowl. Look skyward to spot the hundreds of multi-hued birds, butterflies, and a dizzying diversity of wildlife in the Monteverde Cloud Forest. Find your head in the clouds in a primeval forest blessed by trade winds, rain, and fog by day; and unfettered stars above by night. Go where monkeys and macaws make your day with mischief and count yourself charmed to see some of the 160-plus reptile species—from tiny amphibians to titan snakes. Get civilized too, with visits to an artisan village and a tour of Costa Rica's largest city and cultural capital of San José.
Each tour is limited to an average of just 20 guests per departure. There's always room to roam with extra space between you and other travelers—while still getting up close and personal to the experiences you've been dreaming of. Small-Group Discoveries include all the features of a traditional Globus escorted vacation, complete with expert Tour Director, Driver, and Local Guides who ensure that your health and safety is our top priority. A Small-Group Discovery vacation is the perfectly sized tour—without the crowds.
2023:
Feb 11, 25, April 15, 29 May 13 27 $1159
June 17, July 1, 15, Aug 5, 12, 19 $1159
Sept 9, 30 Oct 14, Nov 4, Dec 9 $1159