Active Travel
If the thought of a week of sun, sea and sand on your summer holiday bores you to tears, you'll love these action-packed adventure holidays. Walking and cycling tours that take in awe-inspiring scenery and breath-taking wildlife encounters are featured here.
Whether you want a challenge to test your physical and mental strength or simply want a once-in-a-lifetime experience that you'll never forget, we've got it all and then some.
Sport Travel
Hear the roar of the crowd, lights shining overhead. Experience the world's greatest and most competitive sporting events. The Olympic Games, the F1 Grand Prix, and the FIFA World Cup are just a few of the events that attract sports fans from around the world. Be a part of the action with a sports getaway for you and your friends.
Or would you rather be the action? Take your game to the next level and become an international player. World-class golf courses, renowned mountain slopes, and rivers that rush along exotic landscapes. No matter how hard you compete, new challenges are out there, waiting to be tackled. Get your team together and get ready to play.
The Lares Trek with One-Day Inca Trail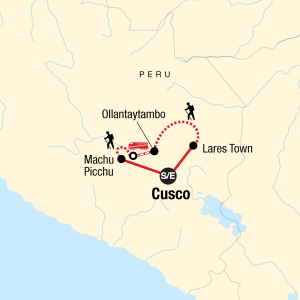 8 days, Cusco to Cusco
Embark on an incredible eight-day exploration through Peru's Lares trek with a taste of the iconic Inca Trail. Take a guided tour through the Sacred Valley, stopping at a women's weaving co-op before beginning your hike. The Lares Trek might not be as touristy but it's no less breathtaking with scenic views of lagoons, the snow-capped Chicon Mountain, Andean flora, and opportunities to meet local Quechua people along the way. A guided tour through Machu Picchu at sunrise, the best time to see the Lost City of the Incas, is a suitably stunning way to conclude your adventure.
2023:
July 8, Aug 5 $1829
Sept 2, 30, Oct 14, 28 $1769
Nov 25 $1699
Dec 23 $1769
2024:
Jan 6, March 16, April 13, May 11, 25, June 8 $1699
July 6, Aug 3, 31, Sept 28, Oct 12, 26 $1699
Nov 23, Dec 21 $1699
Trek Hidden Costa Rica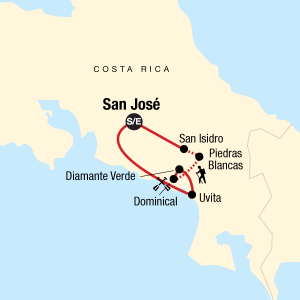 Think you know Costa Rica? Trade in the same old settings for the real deal. Trek into the heart of the jungle to live with three families in a remote village. Discover the emerald core of a diverse land while bunking down behind a massive waterfall in a hidden cave. Learn about the medicinal plants native to these parts and how to make sugar cane candy. This is a spectacular country with opportunities for waterfall rappelling, surfing, and whitewater rafting. This is what adventure is all about.
12 days San José to San José
Prices are per person in single, double or triple room occupancy.
2023:
Jan 7, Feb 4, 18, March 4, 18 $1833
April 1, 29 $1735
May 13, June 17 $2024
Book  by Dec 7, 2022
Madeira Hiking

6 days Santana to Funchal
When you think about a series of islands that's famous for its wine and sunshine, your initial reaction probably isn't to hike all across it. We're here to prove that it should be. Immerse yourself in Madeira's mesmerizing flavours, volcanic landscapes, and rich culture and history on this six-day Portugal hiking adventure.
2023:
Jan 7, Feb 4 $2099
Mar 4 $1959 Apr 8 $1749
May 13 $2249 June $2519
Book by Dec 7, 2022
THAILAND HIKE, BIKE & KAYAK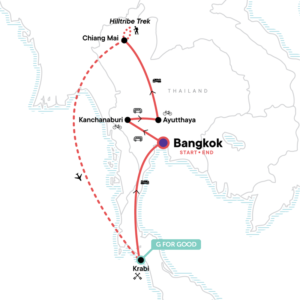 14 days, Bangkok to Bangkok
Perfect for those who believe the best way to appreciate paradise is by jumping right into it. This adventure will have you hiking through forests and rice paddies, cycling through provincial villages, and experiencing Thailand's intriguing combination of culture and the great outdoors. Kayak the turquoise waters of the Andaman and discover coral coves and white-sand beaches. With the services of a Chief Experience Officer (CEO) and your accommodation and transport taken care of, this trip offers great value as it introduces the main sights of Thailand while offering up plenty of flexibility so you can experience an adventure you'll never forget.
2023:
July 1, 22 $2799
Nov 18, 25 $2879
Dec 16, 30, $3059
2024:
Jan 24 , Feb 3 $3059
March 2 $2879
April 6, May 11 $2699
June 29, July 20 $2879
Nov 16, 23 $2879
Dec 14 $3059
Costa Rica Active Adventure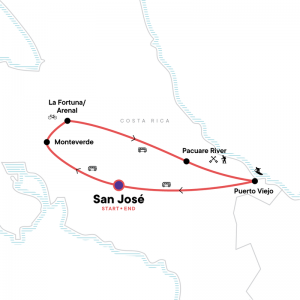 13 days San José to San José
Trekking, biking, horseback riding, kayaking, ziplining. Costa Rica really is the "Adventure Capital of the Americas." Thrill-seekers will find more than enough to keep themselves busy over this trip's 13 action-packed days. After landing in San José, embark on four days of exploration around Monteverde and Arenal Volcano. Raft down the mighty Pacuare River before crossing over to our remote rainforest lodge, surrounded on all sides by the thick, enveloping jungle. End the journey by heading down to the beach at Puerto Viejo
2023:
Jan 7, 21, 28, Feb 4, 18, 25 Mar 4, 18, 25 $1777
April 1, 15, 22, 29 $1721
May 6, 20, June 3, 17, 24 $2024
Book by Dec 7, 2022
Trekking Mont Blanc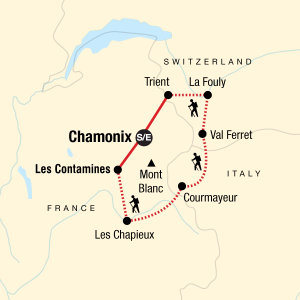 10 days Chamonix to Chamonix
Experience the rarified air of Europe as you trek the Alps from France to Italy and Switzerland along the Tour du Mont Blanc. This challenging hiking circuit will reward you with mesmerizing views of glaciers, steep valleys, and, of course, Mont Blanc itself. Travel across high passes and through Alpine meadows, recharging at night with delicious mountain cuisine in simple refuges. Challenge yourself to conquer one of the world's premiere hiking routes, uncovering the alpine heart of Europe on this incredible active adventure.
2023:
June 15, 17, 18 $2299
June 22, 25, July 2, 4, 8, 9 11, 13, $2599
July 16 18, 20, 23, 25, 27, 30 Aug 1, 3, 6, 8, 10, 13, 15, 17, 20 $2799
Aug 22, 24, 26, 27, 29 $2899
Aug 31, Sept 3, 4, 5, 7 $2299